BEST GLUES FOR DOLLHOUSE MINIATURES
Can you really create Dollhouse Miniatures without using glue? Why are there so many different kinds of glue on the market? Who do you know which glue to use and with what materials?
I have to admit, I'm a glue bottle collector; buying the newest glues that hit the shelves to see if it will work better and maybe faster (as we all know this is the WORST part of being a miniaturist- waiting for the glue to dry!) Here are some guidelines to my findings on what the best glues are for creating Dollhouse Miniatures.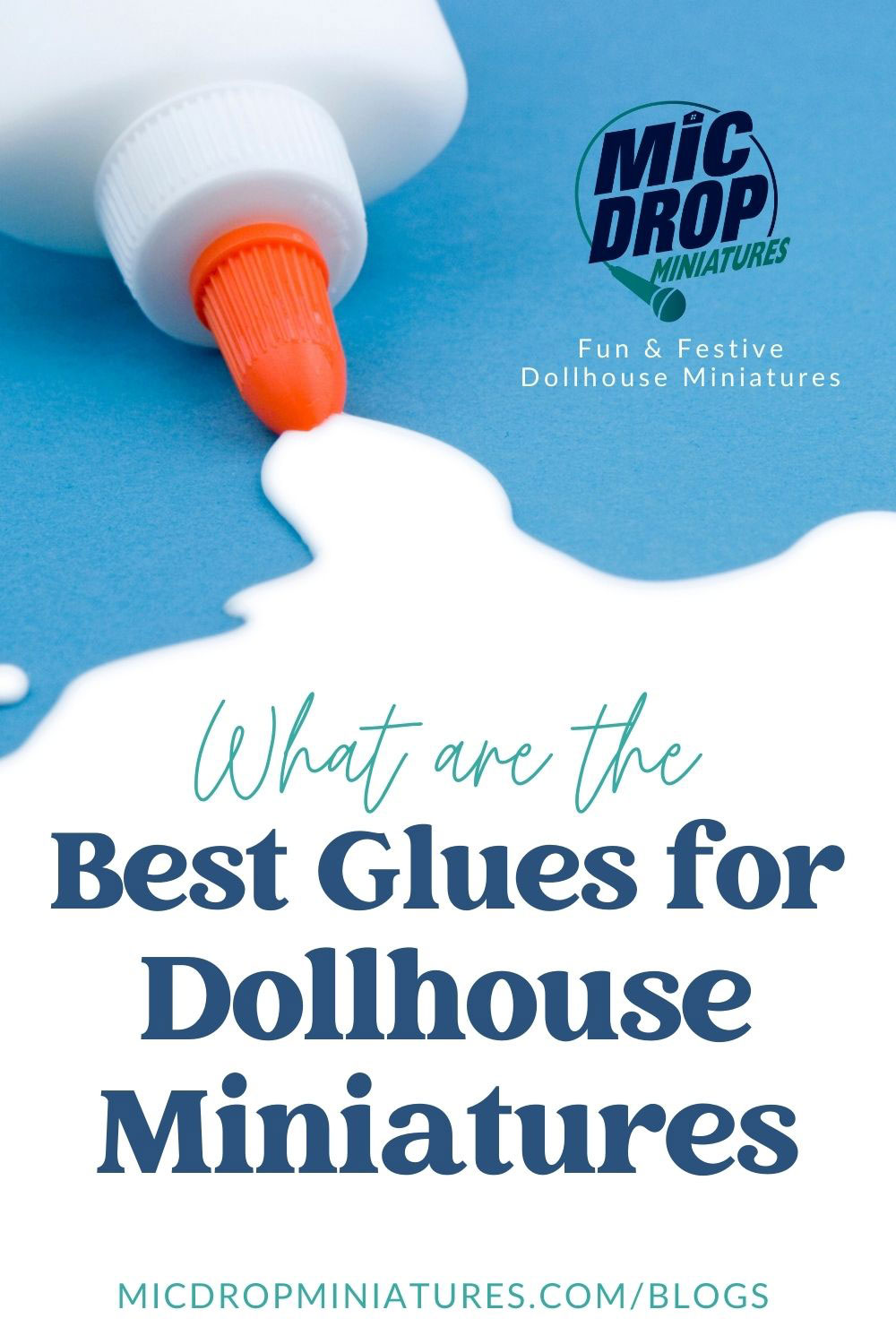 GETTING STARTED
The first thing to know is what will you be using? That will help determine which adhesive to try first, as some glues have special formulations for different materials. Looking at the glue labels will help with this (or the chart I created for you below.
The second thing to consider is the strength needed for the miniature pieces. This is extremely important when gluing together larger 'real scale' items but its still important to consider with your miniature pieces as well. For example, a super glue has very poor strength, but it's great for those pieces where a clamp can't be used to hold it in place.
Another important thing to consider is the thickness of the glue when applies. For example, Tacky Glue is very popular in the miniature world, but in my option it's to thick when assembling furniture or when a thin strip of adhesive is needed. However, using too thin of a glue to attach wood to wood is also not a good idea as it will seep into the grains and not the joints where you want it.
The color (also shiny or matte) of the glue when it dries is also important to think about. Lastly, but probably the most important is how long will the glue hold up. We want our creations to last through generations so choosing a glue that will hold up for years is important.

POLYURETHANE
This is one of the newest type of glues to hit the market. Maybe you have heard of one of the most popular ones, Gorilla Glue, but there are several on the market. In my opinion, I stay clear of these when making miniatures. They are great for strength but they tend to expand when setting. Another issue I have come across is that I can't use the bottle quick enough and it dries out while sitting on the shelf. This is because air initiates the drying process. However, if you want to give it a try, I recommend squeezing all the air out of the bottle before closing it properly shut.

EPOXY
Typically used for water scenes and dollhouse miniature food, this product can also be used as an adhesive. Please note that not all epoxies are formulated as adhesives. If you want to use this as a glue, look for the two-part expoxies. The benefit is its non-shrinking and strong, however, watch closely to the set times as some can take up to 24-hours. This product will also handy when bonding metal to wood for this strength and the joints can be sanded if needed.

SUPER GLUE
You aren't a miniaturist until you super glued your fingers together, right!? We all love super glue for the instant hold you have when gluing two pieces together. A couple things to consider before picking up this product; they can have a strong odor, leave behind a white residue when set and sometimes the strength just isn't there. Quick Tip- if your joints just aren't sticking together after the super glue is applied, simply add a little baking soda to the joint and that should solve your issue.

POLYVINYL GLUE
Also known as: white glue, carpenter's glue, wood glue, PVA and these are just to name a few. There are many many brands of this type of glue, but not all are the same. Each glue will vary in thickness, color and set time. My personal glue for dollhouse miniature making is Elmer's Glue-All, WellBond and Titebond.

What glue are you going to try? Still have questions? Here is a chart to help you decide which glue is right for your project.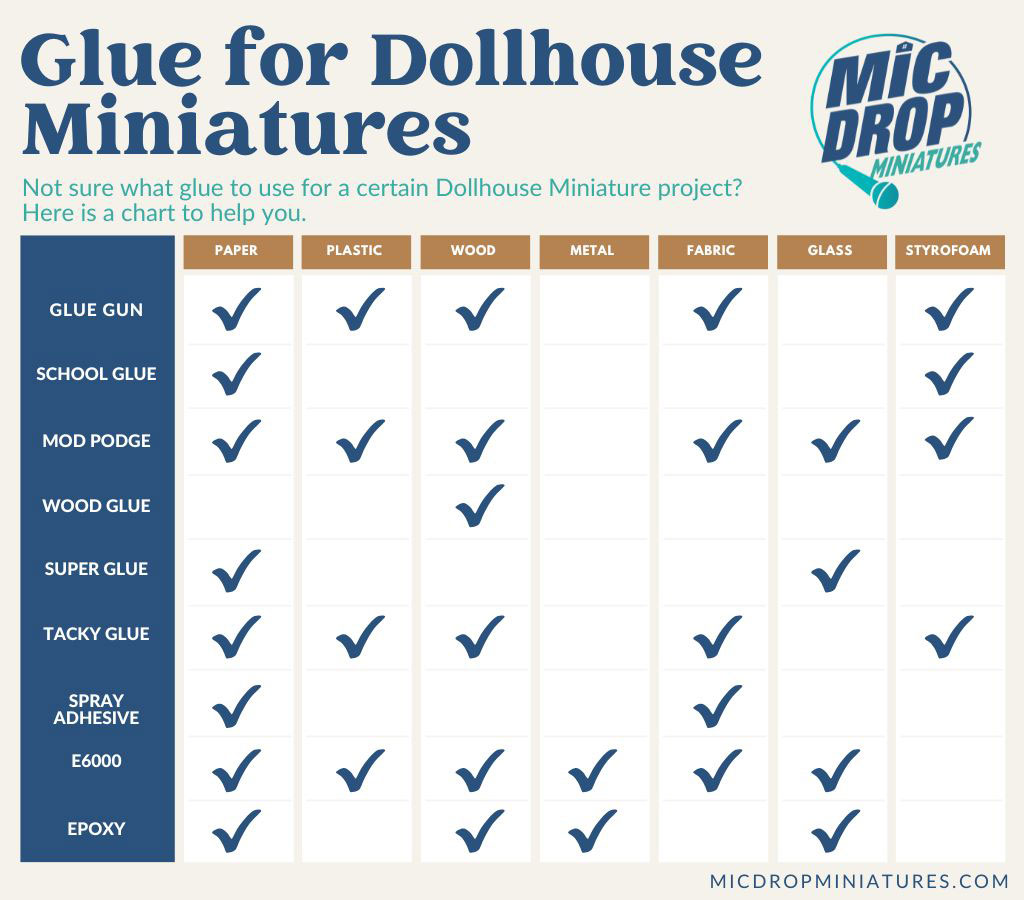 Thanks for being on my site today! I'd love to connect with you and chat minis!
LET'S CONNECT:
website>>> https://www.micdropminiatures.com
instagram>>> https://www.instagram.com/micdropminiatures
facebook>>> https://www.facebook.com/MicDropMiniatures
pinterest>>> https://www.pinterest.com/micdropminiatures
miniature community>>> https://www.facebook.com/groups/micdropminiaturesclub